Zha_PAU_MIDR ("Mediatheque de Pau")
Research for onto a self-supported shell structure in composit material looking at pre-preg carbon fibre / epoxy / nomex sandwich panels; the concept of high performances in architecture push somehow ot an extreme...
Results for the tender middle March; to be followed...
Log_01: in a surprising but perfectly staged press conference, the mayor unfortunatly stopped that project at 4 days of the tender results! motif, technically not faisable! though, despite the press articles, 4 compagnies replied! challenged somehow partly realised! the mayor died the day of the results! no one left to complained about...
not the first time and probably not the last time! life as an architect goes on...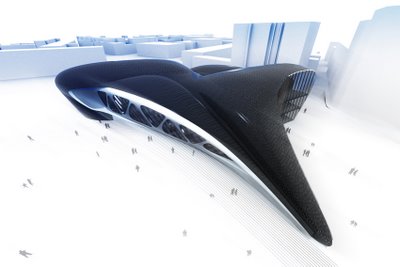 two years of hell'n dreams for Marc Fornes, Alvin Huang and Vincent Nowak...
Labels: carbon fibre, marc fornes, PAU mediatheque, theverymany, zaha hadid