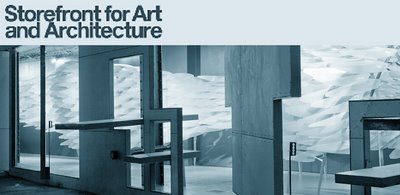 NEW YORK | STOREFRONT | Material Feedback | Jul 31 2009
On July 31, to mark the close of Reef, Storefront for Art and Architecture will host a discussion among a group of practitioners whose work focuses on digital design, material logic and innovative fabrication techniques. With the crucial objective of forging new relationships between research and practice in mind, this discussion will explore how new methods of fabrication and advances in computational geometry cyclically feed into one another.
The evening will begin with each of the participants presenting images of current work and research, creating a common pool of references open to group discussion. Each participant will be asked to present 10-15 slides within a 5-10 minute period. The discussion will be followed by music and refreshments.
PRESENTATION:
THEVERYMANY | Marc Fornes, Skylar Tibbits
Urbana | Rob Ley
Yanni Loukissas
LabDORA | Peter Macapia
Oyler Wu Collaborative | Dwayne Oyler
11.1 | Axel Schmitzberger
Michael Silver
Radical Craft | Joshua G. Stein
Aranda\Lasch | Chris Lasch
Moderator:
Mark Morris (Cornell University)
Labels: marc fornes, material feedback, storefront, theverymany