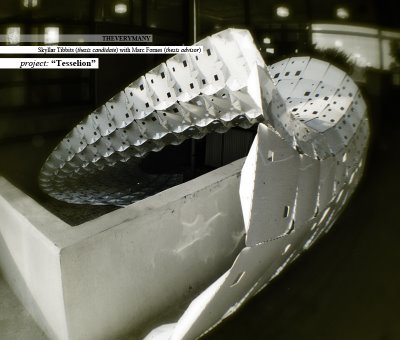 TEST ONE-TWO ONE-TWO...
Great blogging again since experiencing some issues with blogspot (and by now kindly sort out by their technical team - THX!) - so hopefully this post will start a series of updates on few projects, colab or research I have been involved with those last few weeks/months...

As a very first update - I would like to congratulate
Skylar Tibbits
for his final thesis project - "Tesselion" -
MANY CONGRATS!!
Skylar - now associate within theverymany on several projects - has invited me several months ago to extend one of THEVERYMANY's on going research and investigation onto Nurbs surface - recently entitled
"Partly Surfaces"
- or ways to describe them and reconstruct them through different tessellation studies exclusively using flat parts (for simple "constructability" issue)...
Officially invited as thesis advisor my only reserve at the time was -in order to step ahead from the now over crowded paradigm of cosmetic components array onto surface- to require a scale one test proof of the system that would eventually be developed - so here it is finally standing! (hopefully more pictures to come & already many more on the Tesselion blog)
and yes - this can not been seen as "architectural" but rather to my eyes as required "prototypical"...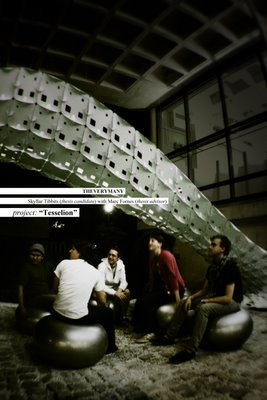 TESSELATION : Adaptive Quadrilateral Flat Panelization.
www.tesselion.wordpress.com
THEVERYMANY
Skylar Tibbits (design & code)
Marc Fornes (thesis & code advisor)
Material Sponsor: Alliance Metals (www.alliancemetals.com)
Fabrication Sponsor: Jared Laucks and Continental Signs (www.continentalsigns.net)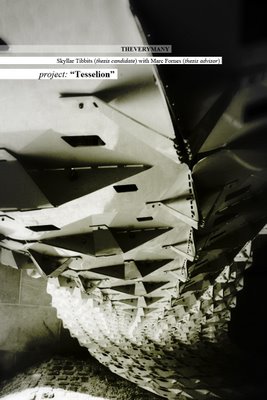 Labels: installation, marc fornes, planar quads, rhinoscript, rhinoscripting, skylar tibbits, tesselion